Best Science Kits For 9-Year-Olds
There are lots of great science kits out there to choose from. They're a great way to help kindle a love for science in kids. Our top pick is Nancy B's Mighty Microbes Lab & Germ Journal. This science kit helps kids explore the extremely relevant topic of microbiology. It's a great starting point for a science fair project and helps kids get to grips with the scientific method.
Name
Nancy B's Mighty Microbes Lab
Nancy B's Hydroponics Kit
Features
This 14 piece science kit includes everything your child needs to grow their own colony of microbes.
This subscription box delivers accessible but stretching science projects to your door every month.
This kit introduces your kids to the world of hydroponics, just add the seeds, and you're ready to go.
Best Overall
Our Top Picks
Name
Nancy B's Mighty Microbes Lab
Features
This 14 piece science kit includes everything your child needs to grow their own colony of microbes.
Best Science Subscription Box
Features
This subscription box delivers accessible but stretching science projects to your door every month.
Budget Option
Our Top Picks
Name
Nancy B's Hydroponics Kit
Features
This kit introduces your kids to the world of hydroponics, just add the seeds, and you're ready to go.
Related post: Best Science Kits for Kids of All Ages
Best Science Kits For 9 Year Olds
Nancy B's Mighty Microbes Lab & Germ Journal is a complete microbiology science kit. It gives kids the chance to explore and learn about this subject area, something that has never been more relevant.
This kit comes with four Petri dishes and an agar nutrient packet. You can make up your first batch of agar from the supplies in the kit. However, the lab book includes a recipe for making more. Which means you can continue to experiment as much as you want. There are also other assorted pieces of lab equipment, including washable safety gloves.
The lab book is great for guiding your kids through the whole process of a science experiment. It lays out clear instructions for the first few experiments and then gradually takes a step back so your child can begin to plan and devise their own experiments.
Microbiology experiments are great for kids because they aren't a few minutes of excitement and then done. Carrying out an investigation can last weeks with repeated observations. This can keep kids engaged and interested and makes for a more significant experience in science.
Best More Than Science Subscription Box – KiwiCo Tinker Crate
KiwiCo Tinker Crate
This subscription box delivers accessible but stretching science projects to your door every month.
The KiwiCo Tinker Crate is an excellent subscription service. The reason this one tops our list for subscription services is that it covers the whole range of STEM topics, it's great for broadening a child's interests.
The kits that arrive each month include all the items your child needs to create something. Building their creation will introduce them to lots of scientific ideas. They then can go on to use their creation to carry out experiments and investigations.
The format of KiwiCo's crates makes them accessible to kids. It's easy to get started and enjoyable too. What makes them truly extraordinary is that your kids end up with something so open-ended that they can take it in any number of directions and can learn so much from each project.
Sale
Nancy B's Hydroponics Kit
This kit introduces your kids to the world of hydroponics, just add the seeds, and you're ready to go.
Nancy B's Hydroponics Kit contains the equipment you need to grow two different plants without the use of soil. The journal that comes with the kit has ideas for several different activities and how you can use the equipment. Do be aware that you will need to get seeds separately. The kit does suggest some options that will grow well.
Hydroponics is a fascinating topic and is something that your child may never have come across before. Not only is it exciting to grow plants without any soil, but it allows you to see the fascinating root systems they have. Something that is usually hidden from sight.
The lab book that comes with the kit encourages kids to explore the ideas of hydroponics. They are encouraged to ask questions and find answers. Because growing plants take time, the lab book also doubles as a journal, which is great for encouraging creativity along with science.
This is a really quirky science kit that allows your child to grow and appreciate plants in a whole new way.
Biology
This Thames & Kosmos Genetics and DNA Kit is a nice introduction to the experiments that underlie genetics and DNA. It should be noted that you will need to get hold of some denatured alcohol and an immersion blender in order to complete a large number of the experiments.
The full-color guide takes you through a total of 20 experiments that range from extracting DNA from a tomato to growing microbes in Petri dishes. The 3D model of DNA is an excellent addition that is a lovely keepsake for any science fan.
The YELLOWSCOPE DNA & Traits Science Kit is one of the pricier options. However, as it includes everything you need to complete the experiments, it works out reasonably equivalent in price to other kits that offer the same experiments.
The whole kit is well thought out and designed. There are dozens of experiments to carry out, and the equipment is of high quality.
The lab book is one of the best parts of this kit. It encourages kids to get interested in what they are doing. The book explains everything clearly and encourages kids to make predictions and observations as they go along. It teaches them to think like a scientist.
This kit is part of a set that is aimed at encouraging girls into science. However, there is no reason that all children couldn't enjoy this science kit.
Chemistry
The YELLOWSCOPE Acids, Bases & pH Kit comes with everything that you need to carry out the experiments, so there's no need to hunt for extra ingredients; everything is in the box.
The experiments are themed on acids, bases, and pH, so there are lots of colorful indicators to explore.
The lab book that comes with this science kit is perfect for encouraging children to think through everything that they are doing. It gives the information your child needs and then encourages them to think deeper. This book also makes a point of encouraging kids to get creative. This is an essential part of thinking like a scientist and is sometimes missed.
Nancy B's Stir-It-Up Chemistry Lab is a good starter chemistry kit. This science kit for kids contains 11 pieces of science lab equipment, including safety glasses and test tubes. The equipment looks professional, which is a real pull factor for kids.
There are no chemicals supplied with this kit, so you will need to do some shopping before you can begin experimenting. Most of the items are likely to be lying around in your kitchen, so it shouldn't be hard to get up and running.
The lab book guides kids through the experiments, all the while encouraging them to think about science and make observations. It's not an instruction book; it's a lab book.
Physics
Engino Physics Laws Lab
This kit allows you to build 6 different experimental setups, including an inertia test platform and a rocket launcher.
The Engino Physics Laws Lab is a great science kit kids can use to get hands-on with some complex physics concepts. Building these models and then experimenting with them can help children to understand what's going on with some otherwise challenging ideas.
The models will enable your child to investigate ideas of friction, circular motion, and the conservation of energy. All while having fun and building some intriguing contraptions.
Along with the building instructions, there are pages on the theory behind the machines, quizzes, and, most importantly, experimental activities. Once each of these machines is built, it opens a door for your child to try out a range of experiments. They can start with the ones in the guide, then they can move on to developing their own. This is a great open-ended activity that your children can get a lot out of.
Sale
Nancy B's Science Club MoonScope is a great first telescope. The magnification on this telescope is strong enough to make observations of Saturn and Jupiter. You can use it to explore the mountain ranges on the moon.
This telescope is sturdy and easy to use, which makes it accessible for first-time astronomers. The lab book guides kids through making observations and encourages them to be creative as they do so. This is a great kit for children who are crazy about space.
Learning to make observations is a big part of learning to be a scientist. So, this kit is great for any child with interest in science. It's also perfect for encouraging kids to spend a bit more time outside.
Subscription Boxes
MEL Chemistry
A monthly subscription kit that contains almost everything you need to carry out fascinating and exciting science experiments.
We're big fans of MEL Chemistry. The kits that arrive each month are of high quality and really enjoyable. You and your kids will get a lot of learning and enjoyment out of these sets.
Each kit contains enough materials to allow you to repeat the experiments 2 or 3 times. When you're all done with the subscription, you will still have a great high-quality chemistry set that you can put to your own uses.
You can sign up for the subscription, which cycles through 2 years worth of new and exciting experiment boxes, or you just get a few at a time. Either way, if you want your child to explore the joys and wonders of chemistry, then this is a great choice.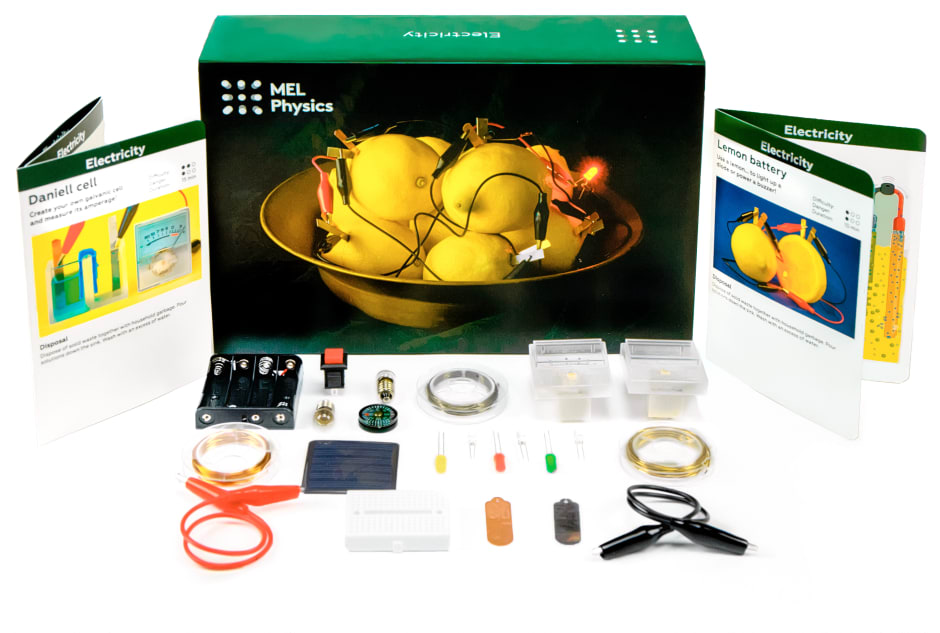 MEL Physics
A kit that could help nurture a budding physicist's interests and further build their knowledge.
We've been big fans of MEL for a while, so we're really excited that they've added a new physics subscription to their offerings MEL Physics.
This subscription will deliver 2-3 experiments to you every month. The boxes contain everything you need, and you will also get access to the MEL app and VR lessons that support the boxes.
As part of each experiment, your child will build something. The mechanism or setup they create can be used an unlimited number of times. So you'll get a lot of use out of each box.
If your child is a budding physicist, then this is the ideal option to help nurture their interest and build their knowledge.
What to Consider When Buying Science Kits For 9 Year Olds

Subject
When picking a science kit, you need to make sure that the topic is one that appeals to your child. You can narrow things down by starting from the area of science that most appeals to your child. Your main options are Biology, Chemistry, and Physics. Within these subjects, there are then a lot more choices.
If you pick the right science, then you probably don't need to worry about the topic in that area.
If you're at all unsure, I suggest that you pick a science kit that you'd be interested in using. Your enthusiasm will likely rub off on your kid. There is also the fact that you might well end up getting involved as well, so it's always a plus if you have fun too.
Reusability
Some kits will have more reusability that others. Some kits, especially chemistry kits, might only have ingredients for one or two attempts at each experiment. Other kits, like physics or astronomy kits, will have a lot more usability.
In terms of reusability, subscription boxes offer a great option. With a subscription box, you will get new activities on a monthly basis. This is a good way to keep kids interested. It means they don't try everything in one burst of enthusiasm, which then fizzles out. If you're looking to get a child interested in science in a long-term way, then I heartily recommend considering a subscription box option.
Educational or Fun
With all science kits, there is always a balancing act involved. These kits should be fun and engaging, but they should also be educational. Otherwise, there isn't much point in choosing this instead of a toy.
In terms of educational value, it's not just about the facts your child can learn. You also need to think about if they will learn anything about the process of science. Learning how to think like a scientist is one of the most valuable skills that kids can take away from science kits.
Challenge Level
When choosing a science kit, you need to try and match it to your child's existing level of knowledge. You need to find a kit that will offer something new but is still accessible. Looking for kits that let kids explore and develop their own experiments can be a good option. In this way, they set the challenge themselves.
Frequently Asked Questions
What's a science kit?
Science kits are designed to be supplemental educational activities. They allow your child to learn and explore ideas that they might have been learning in school. Great science kits for kids offer hands-on ways to explore scientific concepts. They often allow your child to carry out experiments at home.
What are the benefits of science kits?
Science kits can help your child learn more about a topic. This can help them go beyond what they learned in class, or even allow them to access topics they're struggling with. As well as helping your child learn about scientific topics, these kits can also help kids become young scientists by teaching them how to think like a scientist.
Children will often develop more enthusiasm for science as a result of using these kits.
What's the best science kit?
The best science kits for kids are the ones that spark a child's interest. They should be engaging as well as educational. The best kids science kit for your child will be one that matches their interests and encourages them to find out even more.
Last update on 2021-04-10 / Affiliate links / Images from Amazon Product Advertising API